Overview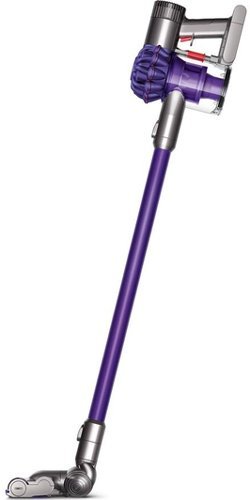 Sorry, this product is currently unavailable.
Product Details
Description
Cleaning after your beloved pet doesn't have to involve too much hard work. Let them get on the couch or the bed, you can always get rid of pet hair by just using with the Dyson V6 Animal vacuum cleaner.
How powerful is the vacuum?
The combination of the Dyson V6 digital motor – turning at 110,000 rpm – and a wide motorised head gives the Dyson V6 Animal handstick the power to suck up stubborn dirt and pet hair off surfaces. Additionally, the vacuum has the power of 15 cyclones arranged in two tiers increases airflow and power, making it an ideal appliance for households with pets.
Is it easy to handle?
Being cordless, the V6 Animal is easy to move around the house, or take to the car once it's been converted to a handheld unit. With the centre of gravity located near the grip and a well-balanced designed, it's easy to clean floors and ceilings. And emptying the bin is as easy as pushing a button.
How effective is it on pet hair?
Stiff nylon bristles of the mini motorised tool, along with strong suction power, make the V6 Animal very effective on furniture and car seats to clean pet hair and ground-in dirt, leaving your home, and your car, spick and span.